FREESTYLE MUSIC
About Music
All contestants in the Freestyle Divisions, please read the following guidelines carefully.
Music Information Form
Before the contest, you must first submit a form regarding the music you will use in your freestyle with the following information: song title, artist name, source (ex. CD Disk/iTunes/Soundcloud URL/etc. If you downloaded your song, you must provide the URL.), etc. Due to Japan's strict enforcement of music copyright laws, we cannot accept the music if the song title and source are unknown.
All freestyle contestants must submit their Music Information Form NO LATER than 5 days before the contest. That deadline is on Friday, August 7th, 2015. If you are using "JYYF Music," please still input it on the form; at freestyle time we will use this information to play the correct track.
If you miss the submission deadline, or if you have a change in your music after the deadline, please (re)submit the same form. However, you must also report (the change in) your music at the Music Reception Desk at the contest.
If you change your music on the day of the contest you absolutely must submit the new, corrected information in the same form within one week after the contest. (If the new information is not submitted within one week, you may be subject to disqualification from the contest.)
[CHANGE] There is no need to submit the Music Information Form
For this international event, we were able to get special permission to not need to submit all of the freestyle music information details. Therefore, now contestants do not need to submit their music information.
For WildCard, please let the staff know your music number for the round right before you enter the room. (Please make sure you know the NUMBER (M-0x) of music you are going to use. If you are not sure, or have not decided, we will play M-01 automatically.)
Also, for each round, please notify the staff of your yo-yo's brand name and model name before or after your performance.
The Cultivation of Wholesome Youth
All contestants must behave in an upstanding, appropriate manner. The player must consider their conduct in their freestyle, music content, and behavior on the contest premises.
Music must be suitable for an audience of all ages (including young children and their parents). Contestants who use inappropriate music (with inappropriate words in all languages, obscene language, and inappropriate lyrical content explicit and implied; in addition, in the case that a beep/silence/etc. is used to cover the word(s), if the coverage of the word(s) is judged to be incomplete or insufficient the player may still be subject for disqualification) may be disqualified by judges. If the contestant is unsure if their music is suitable, they may request that the judges review it beforehand.
Every year there are contestants who are disqualified or nearly disqualified. If there are questionable words or content in your music we highly suggest that you choose a different song. Again, your music must be suitable for an audience of all ages (including young children and their parents) and that guideline will be strictly enforced.
More information concerning disqualification is listed at the bottom of this page.
WildCard Round (3o seconds) Music
In the WildCard Round, the contestant may only choose their music from among the official list of designated songs. Please indicate and submit your chosen track number in the Music Information Form. In the case that the contestant has not submitted a song choice, they may choose it at the Music Reception Desk on the day of the contest, or the music staff will choose a song randomly.
More details, including the WildCard music option list, can be found here.
Prelim (1 minute), Semi-Final (90 seconds), and Final (3 minutes) Round Music
When the list of contestants to advance to the next round is announced, advancing contestants must promptly report to the Music Reception Desk to submit their CD.
In the Prelim, Semi-Final and Final Rounds, music that is under the jurisdiction of copyright control organizations may be used.
For copyrighted music, without fail, we ask that you submit music that is legally in your possession, whether it is in the form of a CD, record, digital music (ex. from the iTunes store), etc. You may submit the original CD or a copy of the original media. Music that was obtained in any illegal manner is not permitted. Please adhere to Japanese copyright law.
On the day of the contest, please submit a CD-R that has been burned with your music in Music CD format (meaning, a CD that can be played on a normal CD player [CD-DA format]). CDs containing files such as mp3, wav, etc. cannot be used. Due to the state of the venue's music equipment, please be sure your CD is NOT a CD-RW. The correct format to submit is CD-R.
*However, in the case that you choose "JYYF Music" option, it is not necessary to submit a CD-R.
1. About your CD-R submission CD
CD submission specifics may differ from other contests so please read carefully.

Please put all songs (Prelim, Semi-Final, Final) for one Division on the same disk.

Please make sure the track numbering follows this order: (First) Prelim -> Semi-Final -> Final (Last)

About the contents to be labeled on the face of the CD:
Please print your full name (in 26 alphabet letters only) as it appears on your contestant registration. This is in order for us to be able to smoothly check the performance order, so we ask for your full cooperation. In addition, please do not write any unnecessary information (such as contest, song title, etc.) on the disk. We ask that you please follow the below examples when labeling your CD.
If you are only competing in one division, burn all of your music for that division on a single CD-R (again, NOT CD-RW).
If you are competing in two divisions or more, please prepare one CD-R for EACH division (this means all songs for one division should be on one CD-R, all songs for the next division should be on a second CD-R, etc.). For the sake of music management, we ask that you follow this rule even if your music is the same for all divisions. One division, one CD-R. For example, if you are competing in four divisions, please prepare and burn four CD-Rs and label them appropriately for each division.
When labeling your CD-R, please write your full name and division name clearly in permanent ink.
This is the correct format you should follow for labeling your CD: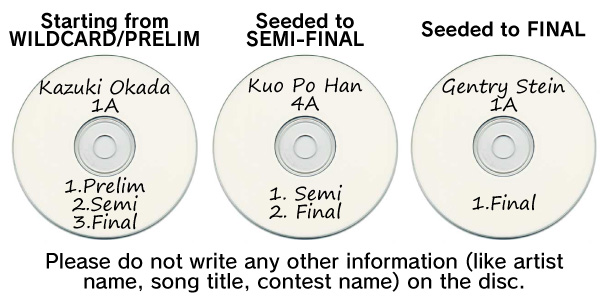 In the worst case scenario of an error in the CD-R, music equipment or loss of the CD-R, each contestant should prepare a few backup options for all of their music (ex. CD-Rs made with a different program/computer/brand of disk/etc.; music on a portable media player such as an iPod).
Guidelines for making your CD-R
To avoid errors that make your disk unplayable (unreadable on the contest music equipment), please follow these suggestions when making your CD-R(s).
Use a CD-R type disk. (CD-RW and others are unplayable).
Burn your disk as an audio format CD (CD-DA). (Do NOT burn the disk with mp3, acc, wav data-only files.)
Use a reliable brand for your CD-R.
Make sure you finalize your CD-R disk when burning it.
Use a different computer, CD-R maker (brand), CD-R burning software to make several different backup disks.
After you have burned your disk(s), please use a slightly older CD player to test whether it can properly play your disk(s). (Many more recent CD players have the ability to play mp3 data CDs as well, so they are not a good choice to use for testing.)
Please be sure there are no scratches, dirt, and other damage on the face of your CD-R(s), and protect them well to be sure they stay undamaged.
Do not write on the CD-R with a hard object (such as a ball-point pen), and do not stick any labels, tape, or seals on the disk.
After it has been burned, do not expose your disk(s) to direct sunlight or high temperatures for long periods of time.
Make sure your disk is playable
Use a CD player (not a computer) to check each track to be absolutely sure that from the beginning to the end of the song (or at least the intended length of your freestyle) your music plays correctly and without error, that each track is the song you intend to use, and all tracks are burned in the correct order.
2. If your CD is unable to play at the time of your freestyle
・Have a handheld/portable music player prepared and ready to go.
In the case that your prepared CDs are all unable to be played at the contest, if possible please have a handheld music player prepared with your music. This has happened several times at past contests so it's always good to be ready with a backup.
・Things to take note of if you need to use a handheld/portable music player.
When you give your music player to the Music Staff, please have it set to the loudest volume. Please also set your player so the screen will not disappear or go into standby/sleep mode (for at least the duration of 3 minutes or more).  If you have any other important information or something you need to tell the staff about your music player, please be sure to let the music staff know when you hand your music player to them.
・About playing of music directly before the performance.
In the case that we need to use your handheld/portable music player for your freestyle music, we may need to play your music live for a short amount of time, directly before your freestyle, in order to check the playability and correct volume. We ask for your understanding of this in advance.
・Things to take note of if you need to use an iPhone or other type of mobile phone as your music player.
Please set your phone to disable all incoming calls (using Airplane Mode, etc.). If your phone receives a call during your performance it could cause your music to stop playing.
If there is trouble with your music, the performance order may need to change, or ultimately your freestyle may need to be stopped midway. This kind of trouble affects not only you but also other contestants, so we ask for your full cooperation in properly preparing your music.
・If you need to inform the Music Staff of something
You will need to inform the music staff if you have any important requests for your music. Some examples are, if there is an extended section (more than a few seconds) of no sound in your music please do not stop the music until the end, or if your music's recording volume is low and you need to request them to play it louder, etc. Any such requests should be submitted in written form on a paper memo together with your CD when you submit your music. Be sure to also write your full name, Division, and Round (Semi-Final or Final) you are sending the request for on the same memo page.
Regarding Disqualification for Inappropriate Music
If it is brought to the attention of staff and/or judges (by contestants, staff, authorized persons, audience members, judges, etc.) that a contestant's music is inappropriate, contest staff will promptly call a meeting of the relevant division's judges (all of that division's judges, supervising management staff), to check the contestant's music.
If half or more of the meeting members (ex. in the case of 4 people, 2 people or more) judge the music to be inappropriate, that contestant will be disqualified from the relevant division.
No disqualifications will be made after the results for each round (Prelim, Semi-Final, Final) are announced (unless the violation is particularly bad).
If the music is so excessively bad that the continuation of the performance is judged to be inappropriate, the music can be stopped mid-performance by the judgement of any one person of the following: head judge, division judges, contest supervising management staff, venue authorized persons. (If after checking it is found that there is no problem with the music,  the contestant can do their freestyle a second time at the end of the relevant division.)
Judges will use the submitted song itself as the primary material subject for judgement.
After it has been decided that the song is inappropriate, the judge in charge will attempt to inform the relevant contestant before results are announced. However, we cannot promise as such if there is not enough time before results are announced, or the relevant contestant is out of the venue or does not respond the summoning announcement.
At the time of an announcement if the contestant desires to explain the circumstances, we ask that they report promptly to the person in charge. However, even if they provide reference from the song's composer, lyric writer, record company, and/or lyric notes, such materials may not be considered. The judges final decision will be based on what was heard in the originally submitted music.
The decision of the judges is final and after a disqualification is decided it will not be reversed in any case.
(Last Update: 2015.6.24)